Sale!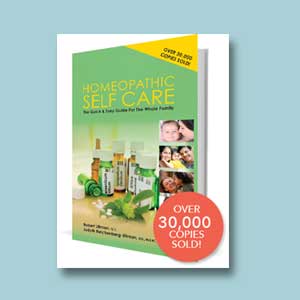 Homeopathic Self Care
Introduction
Over 30,000 copies sold!
Simply put, this is the most user-friendly and effective book you will find on how to treat yourself and your family with homeopathy. What will first jump out at you are the striking graphics: easily readable icons, charts for each of 70 different conditions with the most significant symptoms in bold, and crystal-clear instructions on how and when to take each medicine and what to expect in your healing. Also unique to this book are specific self-care suggestions that we recommend to our patients, in addition to homeopathy, for every condition in the book as well as an optional self-care medicine kit containing the 50 medicines we most commonly prescribe for first-aid and acute conditions.
You may find a variety of books on the shelf on self-treatment with homeopathy, but we are certain you won't find one that will be easier to use. It is rare to find a book on homeopathic acute care written by doctors based on over 30 years of experience. We know what works and what doesn't and we use many techniques to lead you to the correct medicine. You'd be surprised at how many acute homeopathy books contain lists of sometimes hard-to-find medicines with few concrete recommendations on how to differentiate between them. Your success in treating yourself with homeopathy, using our book, will lead you to help yourself, friends, and family members, share your enthusiasm with others, and, hopefully, to consider seek out an experienced homeopath to treat your chronic health problems.
Product Details
Paperback: 510 pages
Publisher: Picnic Point Press; Revised 3rd edition (December 9, 2013)
Language: English
ISBN-10: 0964065487
ISBN-13: 978-0964065482
Product Dimensions: 6.7 x 1 x 9.6 inches
Only logged in customers who have purchased this product may leave a review.