Self Care Book / Kit Special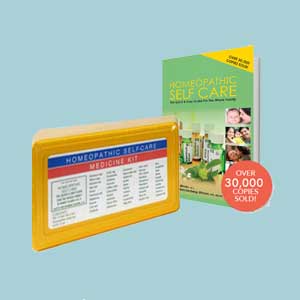 Self Care Book / Kit Special
Product Description
Homeopathic Self-Care Kit
Our popular and easy-to-use kit contains 50 of the most common homeopathic medicines for first-aid and acute illnesses. Compact, lightweight, and inexpensive. Thousands of families have kept their children healthy using this kit. Designed for home and travel use.
Homeopathic Self Care Book (print edition)
Over 30,000 copies sold!
Simply put, this is the most user-friendly and effective book you will find on how to treat yourself and your family with homeopathy. What will first jump out at you are the striking graphics: easily readable icons, charts for each of 70 different conditions with the most significant symptoms in bold, and crystal-clear instructions on how and when to take each medicine and what to expect in your healing. Also unique to this book are specific self-care suggestions that we recommend to our patients, in addition to homeopathy, for every condition in the book as well as an optional self-care medicine kit containing the 50 medicines we most commonly prescribe for first-aid and acute conditions.
Only logged in customers who have purchased this product may leave a review.