Savvy Traveler's Guide / Kit Special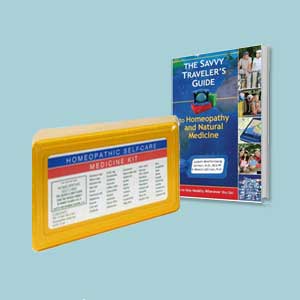 Savvy Traveler's Guide / Kit Special
Product Description
Homeopathic Self-Care Kit

Our popular and easy-to-use Homeopathic Self-Care Kit for Home and Travel contains 50 of the most common homeopathic medicines for first-aid and acute illnesses. Compact, lightweight, and inexpensive. Thousands of families have kept their children healthy using this kit. Designed for home and travel use.
The Savvy Traveler's Guide Book (print edition)
The Savvy Traveler's Guide to Homeopathy and Natural Medicine is a compact guide to keeping you well, whether you are traveling around the block or around the world. Filled with practical tips to enhance your travel experience and stay healthy wherever you may go, The Savvy Traveler's Guide includes how to prepare for your trip, what to take with you, how to stay healthy and safe, and homeopathic and natural treatment for 68 travel health conditions including traveler's diarrhea, altitude sickness,jet lag, sunstroke, and dengue fever.
Only logged in customers who have purchased this product may leave a review.