eBOOK: The Savvy Traveler's Guide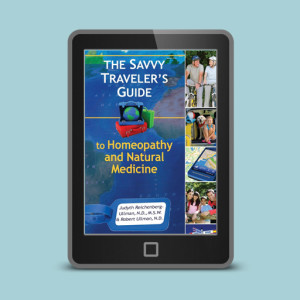 eBOOK: The Savvy Traveler's Guide
Introduction
Homeopathic, herbal, and other natural tips for 68 common travel health problems including traveler's diarrhea, altitude sickness, bed bugs, deep vein thrombosis (DVT), fear of flying, food poisoning, frost bite, jet lag, and motion sickness. User-friendly, practical, information-packed, compact guide t to smart, safe, healthy, affordable travel. This book is filled with practical, user-friendly information that can make all the difference between enjoying your vacation or not. Even if you are already familiar with homeopathy, or you are a seasoned traveler, we hope you will learn valuable tidbits from our experience using homeopathy, herbs and supplements on the plane, on the trail or road, or even on a camel.
About Our eBooks
You can download your eBooks in industry standard .MOBI or .ePUB file formats, as well as Apple's modified ePUB format. These formats are supported by most popular eBook devices and readers, including: Amazon Kindle, Barnes & Noble Nook, Kobo, Android devices, Apple iOS devices, Mac OS X, Windows, Sony, Windows Phone 7, and others. Please check your eBook reader specifications.
Only logged in customers who have purchased this product may leave a review.