eBOOK: A Drug-Free Approach to Asperger Syndrome and Autism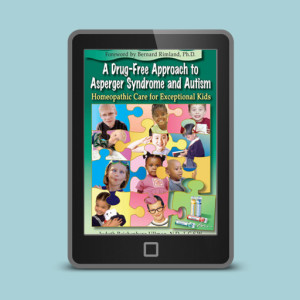 eBOOK: A Drug-Free Approach to Asperger Syndrome and Autism
Introduction
Homeopathic medicine offers a viable, safe, effective alternative or complementary treatment for Asperger Syndrome and Autism. Full of background information on Autism Spectrum Disorders (ASD), homeopathic medicine, and containing 17 case histories of successful treatment, the book is a valuable resource for people with ASD, parents, educators and caregivers.
About Our eBooks
You can download your eBook in industry standard .MOBI or .ePUB file formats, as well as Apple's modified ePUB format. These formats are supported by most popular eBook devices and readers, including: Amazon Kindle, Barnes & Noble Nook, Kobo, Android devices, Apple iOS devices, Mac OS X, Windows, Sony, Windows Phone 7, and others. Please check your eBook reader specifications.
Only logged in customers who have purchased this product may leave a review.