Fourth Week from León to Hospital de la Condesa (388 miles walked so far, 94 miles remain to Santiago)
We left behind the comfort, sophistication, charm, and fabulous fare of León, spent a night in Villar de Mazarife, then undertook a more-than-challenging nearly 18-mile walk to Astorga. A lively town famous for homemade chocolate and a remarkable Nutcracker-Suite-like bell tower within its medieval walls.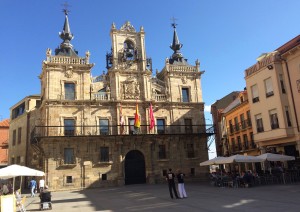 We spent the night in an enormous Catholic, maze-like, color-coded albergue. Passing through Rabanal, we ascended to the rising-from-the –ruins Foncebadón, where we devoured the biggest burgers on the planet at a delightful medieval restaurant, La Taberna de Gaia. We can tell you that walking 12 to 17 miles a day stirs up an enormous appetite, and hearty meals satisfy body and soul. Some of our favorite delicacies have been doughnut-like churros dipped in hot chocolate, rich and hearty sopa de ajo (garlic soup), the ubiquitous fresh-squeezed zumo de naranja (OJ), roast lamb, empanadas (crusty, hot, savory pies), topped off by flan or rice pudding. Occasionally, we partake in a larger-than-life communal meal.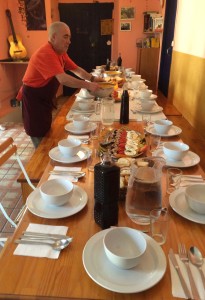 Last night Carlos, a Spanish Buddhist hospitalero (innkeeper on the Camino), prepared a simple feast of exquisite carrot soup, mixed green salad with tuna, spaghetti carbonara, and creamy pudding for 25+ international guests. Such a gathering is typical here on the Camino… pilgrims from Italy, Germany, Austria, U.S., Spain, France, Macedonia, Brazil, and elsewhere, shared conversation, wine, and hearty fare!
You never know what you find around the next bend while walking the Camino. What an amazing surprise to come upon a falconer in medieval dress, who happily invited pilgrims to hold and pose with a huge Harris hawk (he called her an eagle) named Julie. This was very special for Judyth, who had recently presented a homeopathic Peregrine Falcon case of a young man with Asperger Syndrome in Sweden.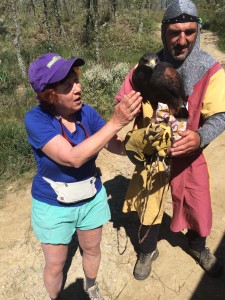 It may seem like we continue to dwell on the wear and tear on our feet, but that's the way it is, despite all the previous training and hiking savvy, when you undertake nearly 500 miles of walking over seven weeks. Bob is beaming in this  "220 kilometers to go" photo, but Judyth finally found herself victim to excruciating blisters after an exhausted, hot, dehydrating day of a 3000-foot  descent into the medieval heart of Ponferrada.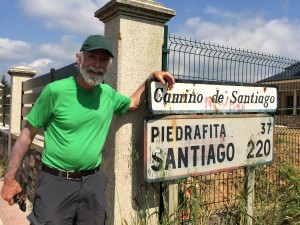 One of most astonishing revelations, over and over again, has been how our bodies, especially our feet, can sufficiently recuperate overnight to forget about our searing foot pain and allow us to start out again, new and fresh! The highlight of Ponferrada was a visit to the massive stone castle of the Templar Knights, dating from the 12th century, declared a Spanish national monument.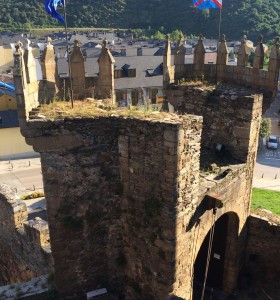 One of the most breathtakingly beautiful areas on the Camino is the vineyards and cherry orchards of Villafranca.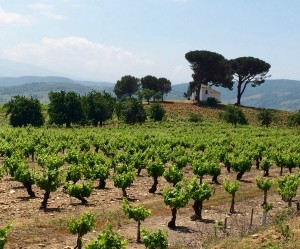 As one of our sister travelers, on her second Camino, described, the only real job of a pilgrim is to wake up and walk, to put one foot in front of the other for five or six hours. We are so used to the rhythm of our foot-powered transportation that the touring bikes and cars seem startling and jarring. How strange it will be to drive and fly once again!
This morning, after hiking mountainous terrain for two days, we crossed over from Leon-Castilla into Galicia, the fiercely independent region of Celtic origin underlying a strong Catholic faith.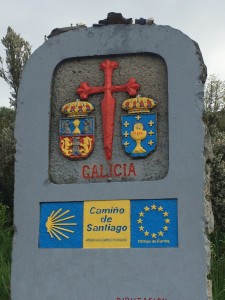 We passed through the full-of-character, stone village of O'Cebreiro, one of the highest points on the Camino, with its traditional round huts and thatched roofs.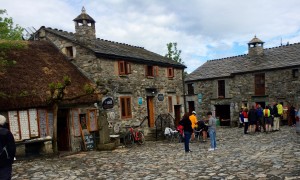 Finally, we have reached Day 28 of our pilgrimage, just one week from our destination, Santiago de Compostela. It appears that we will, indeed, complete our goal of walking the entire Camino Francés, nearly 500 miles in all, across Northern Spain.