Third Week from Hornillos del Camino to León (289 miles walked so far, 193 miles remain to Santiago)
We've hit day 22 of our journey and have managed to keep up a brisk pace most of the time, hiking between 12 and 16 miles a day. Mind you, the furthest we have ever hiked in the past is 12 miles, a couple of times, and certainly not day after day! Six to seven hours a day of pounding trail and pavement—our feet are still the limiting factor!  Our gift to ourselves: two days (yesterday and today) of regal R & R at the Parador of San Marcos, one of the most historic and charming hostels in León, a must-visit Spanish gem.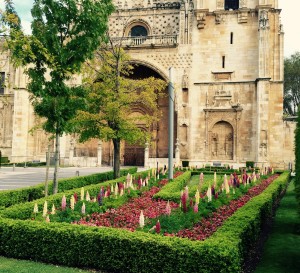 We just finished a week of trail that some pilgrims (peregrinos) choose to bus because of its flat, somewhat monotonous terrain. But we found it to be verdantly beautiful, and we are committed, unless it becomes impossible, to finish the entire Camino Francés (the French route, known best as the Camino de Santiago or The Way, by foot.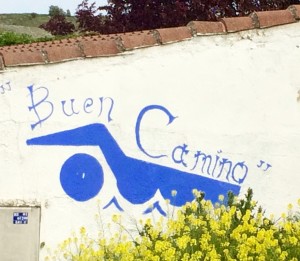 The camaraderie of fellow pilgrims is delightful, on the trail, at rest stops, and at the albergues (pilgrims' communal hostels). Though a couple times a week we burn out on the bunk beds, shared facilities, and snoring, and opt for a hostel or hotel. But, really, relatively comfy hotels don't provide the same United-Nations-like ambience. Especially for Judyth, who loves the opportunity to converse, as the true Aquarian that she is, in Spanish, and French. We have made some good friends, but there is mostly an ongoing interweaving, day by day, depending on hiking pace, style, and schedule. We will surely meet up again with some folks, perhaps even in the future, but many simply cross paths here like ships in the night.
Some of the more magical moments here are momentary and spontaneous. We hobbled, at the end of a long day of walking, into a precious and remarkably understated Catholic church, in Castrojeriz, devoted to the Virgin Mary. An Italian pilgrim entered just after us, and handed the volunteer attendant 20 Euros, requesting that the next 20 pilgrims entering the church be admitted free. He promptly exited. It took the woman a few moments to gather herself. In her eleven years volunteering in that church, she had never before come across a pay-it-forward moment. Judyth tried to explain, but she ran out, unsuccessfully, to try to find the generous gentleman. She insisted that Judyth accept a wooden cross of St. Francis, as a gift, in his place. The next morning, ascending a steep hill leading out of town, Judyth came upon the donor, and he reluctantly accepted the cross, promising to gift it to his wife on his return to Italy. Just think how many folks were or will be touched by that one brief, intentionally anonymous, gift.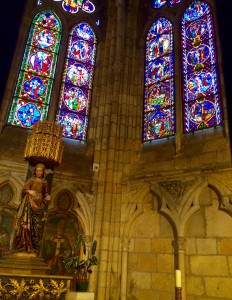 Even in our moments of weariness and physical pain, the sheer beauty of the Spanish landscape, as well as the architectural mastery, are awesome. The brilliant red poppies set off by a field of spring green; remarkable, centuries-old stone structures; celestial sun- and moonrises, windswept fields of wheat, and some of most breathtaking churches, either in their complexity or simplicity.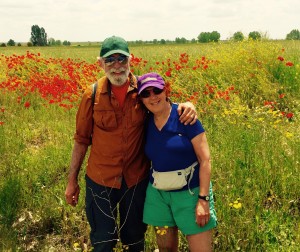 Tomorrow, just after our generous, all-included sumptuous breakfast, we are off again to begin the last third of our arduous,  yet rewarding, journey.