Second Week from Viana to Hornillos del Camino (219 miles walked, 303 miles remain to Santiago)
We had no idea how challenging this adventure would be, especially on the feet! You just can't walk over 200 miles, day after day, without your feet screaming, "STOP!" And, yet, you keep on going. It's not a matter of if you will have to deal with your feet, but rather what, when, and how bad. Despite our treating our feet with TLC, including Compeed lubricating stick between the toes every morning, heel cream in the evenings, Traumeel ointment, Arnica pellets, applying various blister-prevention "plasters," and wearing clean SmartWool socks and cushioning insoles, Bob still got an angry blister on his heel and several hot spots.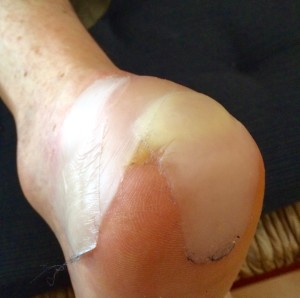 Judyth, following an REI hiking boot expert's advice to get a size-larger shoes laced with an extra twist, escaped blisters, but ended up with a sprained ankle and excruciatingly painful foot pads! And, would you believe, we passed one French pilgrim today who was walking barefoot!
This journey is all about SIMPLICITY! We get up at 5:30 or 6 from our beds, typically communal double-decker bunks with anywhere from 6 to 60+ in a room in a municipal albergue.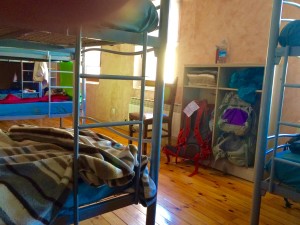 The exception is the very occasional private room in a hotel or private albergue. There are, fortunately, hot showers, but it is camp-like affair with hiking towels, the simplest of toiletries, and, of course, no hair dryers. Lights go out at 10PM and on at 6AM, though many pilgrims start earlier via flashlights or headlamps. We are talking about 12-15 miles a day with a variety of terrain and altitude gains, which takes us about 5-6 hours of steady walking.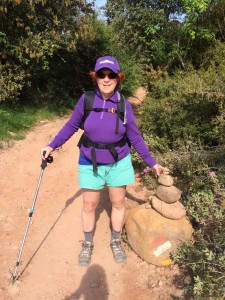 COURAGE is another word we would use to describe those who take on this endeavor. It is a journey of perseverance of body, mind, and spirit. But, despite our ages of 65 and 68, we are in good shape. Many of our fellow pilgrims have faced or continue to endure significant challenges of health and stamina. One of our inspirations is Dennis, from Montreal, who embarked on this pilgrimage less than a year after his double lung transplant.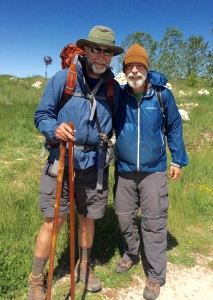 Talk about a new lease on life! Bob only had arthroscopic knee surgery two months ago, from which he seems to have recovered quite well.
So, how do we keep our spirits high on this challenging journey? Bob has become the minstrel of the trail, singing uplifting songs from the Dances of Universal Peace, or made up on the spot from the heart. For both of us, we are deeply moved by the greenery and beauty that surrounds us everywhere here, the lively, upbeat character of the Spanish people, and the conviviality of meeting new friends every day from all over the world. The Catholic churches here are sacred and steeped in spiritual tradition back to 11th and 12th centuries. We have enjoyed deeply moving masses and stunning architecture, especially, yesterday, the Cathedral of Burgos.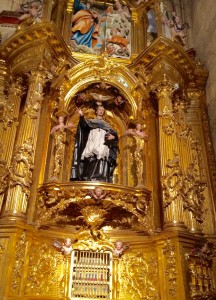 One of the high points of this week was celebrating Bob's 65th BIRTHDAY!! This milestone, weeks after our 30th wedding anniversary, were what inspired us to do this pilgrimage. We enjoyed a fabulous 3-course Spanish meal of garlic soup, lamb ribs, and birthday cake, serenaded by everyone in the room singing Happy Birthday. Truly a memorable birthday!